SHIKUN & BINUI SOLEL BONEH
Protecting the safety and health of our employees is a top priority at Shikun & Binui Solel Boneh. Our commitment to safety is a core value, as reflected in the code of ethics of the Shikun & Binui Group. Our policy on this subject is an integral part of who we are.
We strive to create a safe, accident-free work environment by identifying risks and hazards to safety and health, with the aim of preventing physical harm to employees, customers, suppliers, bystanders, or any other person, as well as preventing property damage.
Shikun & Binui Solel Boneh is committed to taking action and investing resources in order to ensure that every one of our employees returns home safely.
The management of Shikun & Binui Solel Boneh considers all of its managers and employees partners in promoting safety at the company; towards that end, it regularly informs them of relevant innovations in this area, and supplies them with training and learning resources to enable them to become familiar with and understand safety directives, so that they can work as safely as possible.
The company has a dedicated safety department, which is involved in all work processes, beginning with the planning stage. The department consists of ten experienced safety supervisors, who are responsible for instructing site managers and workers, checking the safety authorizations of subcontractors and their employees, running knowledge refreshment and training sessions as necessary, and conducting numerous surprise inspections, aimed at ensuring that safety standards are maintained at all times. In addition, safety supervisors are appointed for each job site, and safety trustees are trained by the company.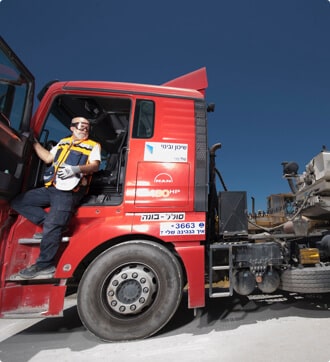 SHIKUN & BINUI SOLEL BONEH WORKS TO CREATE A CULTURE OF SAFETY AMONG ITS EMPLOYEES AND AMONG ALL WORKERS AT ITS SITES, BY RAISING AWARENESS AND IMPROVING DISCIPLINE IN THE AREA OF SAFETY. SOME OF THE ACTIONS TAKEN BY THE COMPANY TO INSTILL THIS VALUE AND MAKE EXTENSIVE INFORMATION ON SAFETY AVAILABLE TO ALL EMPLOYEES:
An advanced safety application is used at most of our job sites to provide a safe work environment and prevent dangerous situations, through routine examination of the qualifications of the workers at the site (training and certifications) and the functional condition of the equipment in use (excavators, hoisting tackle, lifting machines, air collectors, etc.), and through alerts for the expiration of protective gear. The application also allows safety supervisors to generate safety review reports addressed directly to the relevant officials at the site.
SAFETY TRUSTEES AND CONTROLLERS
Safety trustees and safety controllers have been trained within the company, in order to impart knowledge about safety to as many employees as possible.
The CEO of Shikun & Binui Solel Boneh and all of the company's deputy CEOs conduct safety reviews at job sites not under their direct, routine responsibility.
Our job sites are inspected based on a range of criteria used to determine the safety level of the site. At the end of each year, workers and managers of the best job site and factory win awards. Safety excellence awards are given each quarter to recognize employees for their contribution to promoting safety at the company.
Round-table meetings are held at our job sites, attended by workers, division heads, safety managers and experts, representatives of the project administration, and subcontractors, in which participants share ideas and suggestions for improving safety during work on the project.
We hold safety conferences for the various divisions, in which statistical data on safety incidents are presented and actions necessary to improve job-site safety are described in detail. Job-site managers are periodically invited to meetings aimed at refreshing knowledge on guidelines and providing ways of coping with safety challenges in day-to-day work on the company's sites.
IDEAS FOR THE PROMOTION OF SAFETY
We encourage all employees to suggest ideas for the promotion of safety at the company. The Safety Committee considers these suggestions, and the best ideas are implemented at our job sites; the employees whose ideas are chosen win awards.
MOBILE SAFETY TRAINING UNIT
The company has a mobile safety training unit equipped with instructional materials and simulators on the subject of safety. The mobile unit visits Solel Boneh job sites, where its staff provides on-site instruction to workers. Thousands of employees and subcontractors have received this training.
We published a safety guidebook, which was distributed to all employees of Shikun & Binui and continues to be given to new hires, containing information about the company's activity and a list of tools for maintaining safety.
We conducted an internal campaign, including bumper stickers printed for our company vehicles with the slogan, "Drive safely, someone is waiting for you at home"; distribution of protective helmets with safety slogans; and bulletin boards with safety guidelines posted at all job sites.
We established the website Safety First, which we continue to operate; the website is designed to raise awareness in the general public and among professionals, and to provide a centralized source, accessible to the public, for a wide range of content on the subject of safety in general and safety in the construction industry in particular.